About Borås
Borås has something to offer everybody, whatever the season. Whether you're here on business, attending a course or a conference. Borås welcomes you with its wide range of services and facilities - and almost everything is within walking distance. Here is the recipe for a successful conference!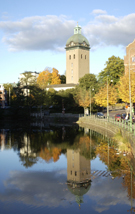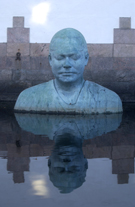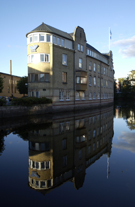 Cuisine
You simply have to eat well when you are away on a conference! Here in Borås, we are proud of our city's wide variety of international cuisine. It will make a memorable impression! Here are some examples »
Combine business and pleasure
Borås is well known for its big-city variety and its small-town proximity. Here you can combine business and pleasure without wasting too much time. Play golf, go on safari in the zoo, feel the wing-beats of history at Torpa Stenhus.
Out and about
Borås is not just a lively commercial city. The varied countryside surrounding the city includes extensive forested areas with beautiful lakes and streams.
Borrow a bicycle!
Cycling is the perfect way to get out and about and discover Borås. There are many cycle tracks and the terrain is varied.
Fishing
There are more than one thousand lakes in the Sjuhärad district. Borås has several game fishing waters which are located centrally in the city. Borås Tourist Office can give you more information about fishing and licences.
Hiking
You will find a number of excellent hiking trails surrounding Borås which will take you through forests and a landscape of cultural interest. Maps and information are available from the Borås Tourist Office, tel +46 (0)33-35 70 90.
Illuminated running tracks
In Borås there are several illuminated running tracks of different lengths and degrees of difficulty. Run through the wonderful forests or along open fields. The Tourist Office can give you more details about these tracks and routes.
For more information,
contact the Borås Tourist Office, tel +46 (0)33-35 70 90.
Excursions
Leisure time ALL YEAR Borås and the Sjuhärad district have lots of interesting sights and attractions that appeal to old and young alike and make perfect day trips for the whole family. Enjoy a day out.



Borås Zoo
The zoo is in the centre of Borås! This is the home of almost 500 animals of 80 different species. The 40 hectares (equivalent to 55 football pitches) that the zoo covers provide the animals with an exciting and natural habitat. The zoo's predominant focus is on the large African animals. There are many creatures from Asia and the Nordic region too. The zoo is committed to showing the animals in a natural way, allowing them plenty of space and surroundings that stimulate their natural behaviour.
Navet (The Hub)
Navet is the natural science centre of Borås - an inspirational place containing masses of enjoyable experiment stations which are both instructive and exciting for adults and children alike!
The stave church in Hedared
The country's only preserved medieval stave church is situated in Hedared, in the Sandhult municipal area outside Borås. Stave churches were mainly used in Sweden and Norway as heirs to pre-Christian cult temples and shrines using similar methods of construction. The church still contains medieval relics and beautiful, old paintings.
Torpa Stenhus Castle
Torpa Stenhus Castle Torpa Stenhus, south-east of Borås, is a remarkable medieval castle from the 15th century, charmingly situated next to the water amongst oak-covered slopes and forest meadows.
Sundholmen Castle Ruin
The Sundholmen Castle Ruin, which at one time belonged to the Brahe family, is beautifully situated on an island in Lake Tolken, about 25 km east of Borås. The only way to reach the island is by boat. Rowing boats are available. The main building at Sundholmen is on a headland opposite the island.
Vänga Mill, Café and Gallery
On a beautiful site next to the river Säveån just outside Fristad, 13 km north of Borås, is Vänga Kvarn, one of Sweden's few working rural mills. Buns, cakes and sandwiches, made with flour from the mill, are served in the cosy café. The art gallery has different exhibitions throughout the summer. There's live jazz some Saturdays. Every Sunday and Wednesday throughout the summer the mill is the venue for musical entertainment, as well as on Sundays during Advent.
Hofsnäs Country Manor Café
Visit Hofsnäs Herrgårdskafé, about 30 km south-east of Borås, to enjoy a cup of coffee, home-made buns and cakes and the view across Lake Åsunden. During the peak season, the café arranges barbecue evenings and summer auctions.
Throughout the year, you have many opportunities to discover Borås with our guided walks and bus tours with different themes. Knowledgeable guides will show you Borås and tell you all about it!
Contact the Borås Tourist Office, tel. +46 (0)33-35 70 90.
Leisure time in Borås
Borås has a long and distinguished sporting tradition. Much is invested in different kinds of sport and leisure activities. You can watch successful Borås teams playing in the different arenas amongst others the IF Elfsborg at Borås Arena, our new pride , this venue was official opend in spring 2005.. When it comes to leisure activities, there is a wide and varied range.
Stadsparksbadet (City Park Swimming-baths)
27°C in the water and 29°C in the air. Waves lap on the beach and children's shrieks of delight fill the air. Welcome to Stadsparksbadet in the heart of Borås. A water adventure complex in a tropical setting where all the family have a great time. This is an all-year, all-weather water fun centre!
The young children have their own shallow water area, an octopus that spouts water and there's a water slide for the 1 to 7 year olds. The daring and courageous can try out the wave pool and the climbing wall. Water cannons, a cave, diving tower and a new 60-metre long water chute, with light and sound effects, as well as a keep-fit pool Jacuzzi, solariums and sauna.
Relax with a picnic from home or a tasty treat in the poolside cafeteria.
Information: Entrance desk: Tel. +46 (0)33-35 73 99.
Text and information from: www.boras.se